An art project by Antje Schiffers on the annual theme of people
This year, we are focusing on people who are committed to the cohesion of rural society. Their local, village and sports clubs, the voluntary fire departments, the municipal councils and local advisory boards, the choirs and bands, all these forms of community contribute to a successful rural life in the Oderbruch. And, of course, we are interested in the question of how these people assess the future of rural society in the Oderbruch. But how can we succeed in making rural society appear beyond the village borders, so that it can be experienced as a lived context?
This year we asked the artist Antje Schiffers to help us with this. She accompanied our conversations with selected committed people and asked the interlocutors for an object that tells about their work. This could be a linen bag for the potatoes that are still grown together or the bag of a Syrian refugee child, in which all his belongings were when he came to the Oderbruch. The comfort dolls for the hospice work were there as well as the school mascot that was supposed to unite the different villages of a catchment area, posters of bands that played at the Gasthof zum Feuchten Willi, a volleyball, a T-shirt or a music box and much more.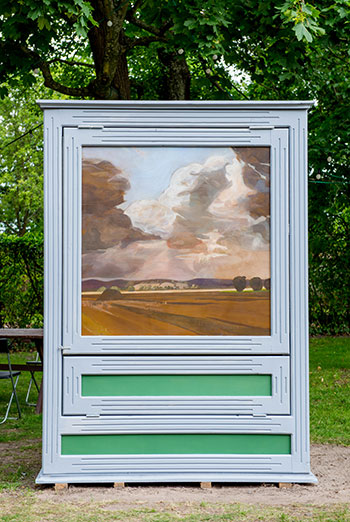 She arranges all these objects in a cabinet painted for this purpose in the park of the museum, giving them a meaning beyond themselves. The "fixed cabinet" thus celebrates and preserves the ingredients, the necessary ingredients for a successful rural life. This cabinet is opened daily, and here it is now shown what different forms the individual experiences take - and that they nevertheless deserve a common appreciation in the ensemble of the others. The artist produces small films for each of these objects, which pick up on their stories and can be seen opposite the cupboard in the museum, together with the photographic portraits and the texts of these people in the exhibition.
On special evenings, a large table is set at this festive cupboard, with specially designed tablecloths on which small tractor tracks wind around ears of grain, native beetles and fish. And at this table the interlocutors of this year are invited to a feast, with food and drinks from the region and a small laudation, in which one thanks them and expresses that you, who were gathered here representatively for many others, do something important.