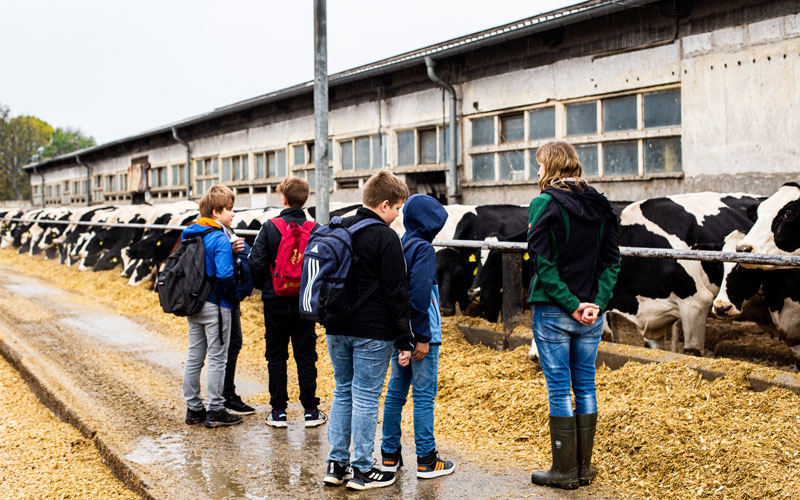 The school project Heimatarbeit looks at forms of living and working in the Oderbruch, shows pupils what individual life paths are possible, how they can ask questions of their own living environment and enables them to discover the rural area as a perspective for the future.
In this project of "Landscape Education" we organize lessons at four local schools, work out different forms of research with the students. On a final field trip day, the young people prepared in this way visit people and personalities in the Oderbruch in small groups for short interviews. "Why do you want to live here?" "How do you earn your money here?" "Isn't it disgusting?!" are just a few questions asked during such a visit. In the process, the young people learn a lot about the Oderbruch and its inhabitants.
The project is made possible with about 100 volunteer business mentors and caregivers from the Oderbruch region.
10 years of local history work
To mark the anniversary of our local history work, RBB accompanied pupils from Bad Freienwalde grammar school during an interview with Michael Rubin at his goat farm in Zollbrücke. 
Join now!
Interview partner
At a certain time (usually in the course of the morning) you will be visited by 3-4 young people who will happily ask you questions for about 1h. Show the kids your home, what you do and your life plan. Don't be surprised: our students are encouraged to diligently take photos. As a parting gift, "give" the youngsters what's called a "giveaway" - an object that tells about your life, your daily routine, or your involvement. Farmers gave already retired plowshares, private home builders gave away historic tile fragments, or a GEDO representative gave a small spare bearing from one of the giant scooping plants. So it doesn't have to be anything new, big or expensive, rather something that has been used and perhaps has a little history. This giveaway along with a photo of you or your yard and a quote from the interview will be on display in a temporary exhibit at the museum.
With this commitment, you can make a great contribution to the students' understanding of their homeland.
Contact us now!
m.buhmann@oderbruchmuseum,de
Supervisor
The students will be divided into groups of 3 to 4 people for the big excursion day and then travel with you through the Oderbruch. You chauffeur the young people with your own car, get to know interesting people and places in the region and of course get the travel costs reimbursed.
Contact us now!
m.buhmann@oderbruchmuseum.de

<<< The Oderbruch Pavilion provides insights into classroom activities for the Homeland Work school module.