Saturday, November 4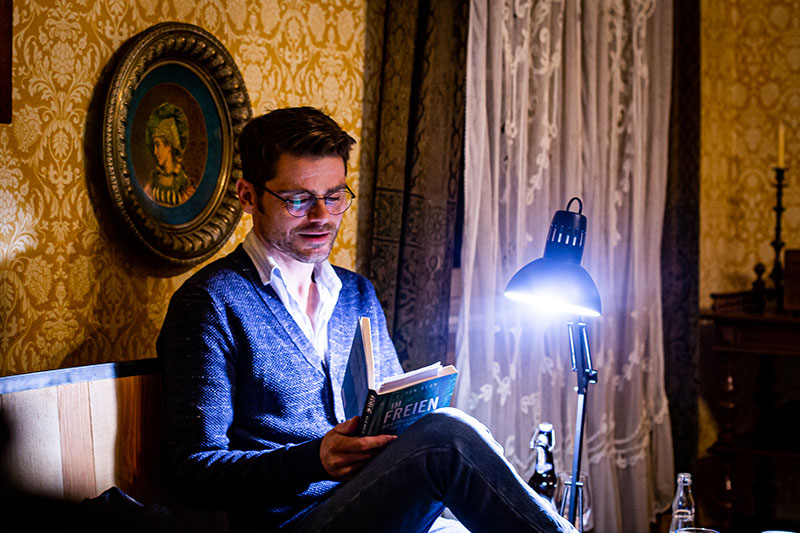 The Oderbruch Museum Altranft invites on the first weekend of November to a small reading festival
When the leaves turn colorful and the wind blows colder, many readers are drawn to their favorite armchairs and to the manifold worlds between lines and book pages: It's reading time again in the region, and the Oderbruch Museum in Altranft is taking this special mood into account with a reading festival in the castle. On November 4, more than ten authors will read from their own or other people's works throughout the day at Altranft Castle.
The annual theme of "youth" is not lost sight of, which is evident right from the start at 11am: Young people will read from their essays and texts and provide intimate insights into the young lives of the break. This will be followed by readings by Dr. Kenneth Anders and Lars Fischer. The museum's program directors will quote from interviews conducted by a research team over the year to explore "the youth" in the Oderbruch. This modus operandi is at the core of the museum's content work, filling the year's themes with the Oderbruchers' own descriptions rather than writing about them. Everything culminates then in a book, which gives a good overview of the respective topic in the Oderbruch - unadulterated summarized and almost directly from the mouths and heads of the region. Since the book is traditionally published at the opening of the next season, the reading in November is a first look at the collected texts.
Traditionally, many authors thrive in the Oderbruch soil, and they will also have their say on this day. Stephanie Turzer, Guido Saslona, Philippe Gross and Gundula Eichler will read poems, thoughts, prose, biographies and travelogues from the Oderbruch. After that it will be autobiographical when Uwe Großkopf reads from his father's book "Oderbruchkinder" and "Der Malerlehrling" by Veit Templin describes the not long ago reality of a socialist Oderbruch and its bricklayers' brigades and state harassment. Authors who have already passed away will also be heard: Excerpts from Carl-Adolf Eschenbach's "A Youth in Altranft" and texts by Gustav Schüler will conclude the program. The day will be musically accompanied by a school band from the Oderbruch region. Those who can't sit still have been thought of as well: an entertaining workshop with the artist Bettina Männel encourages young and adult guests of the museum to do handicrafts and paint.
Perhaps this reading marathon will make you want more written and read aloud: this can be satisfied: The museum organizes four dates of the OderBuch series at Altranft Castle on the initiative of the Klub der Kolonisten e.V. from Neulietzegöricke.
The prelude gives "house rescuer" Mats Ciupka with its child book "Fetti remains" on Friday 10 November starting from 17 o'clock (more info. on orbruchmuseum.de).
Program 04. 11. 2023:
11:00 / Studiolo
Opening and reading of young people from the fracture
12:00 / Picture Gallery
Excerpts from the surveys on the annual theme - read by Lars Fischer and Dr. Kenneth Anders
13:00 / Yellow Salon
Authors from the Oderbruch
- Stephanie Turzer, Guido Saslona, Philippe Gross and Gundula Eichler
14:00 / Library
Jörg Großkopf "Oderbruchkinder" - read by Uwe Großkopf
15:00 / Bistro
Veit Templin "The painter's apprentice" - read by Alex Schirmer
16:00 / Men's room
Texts by Gustav Schüler and Carl-Adolf Eschenbach
Date
Sat. 4 November 2023