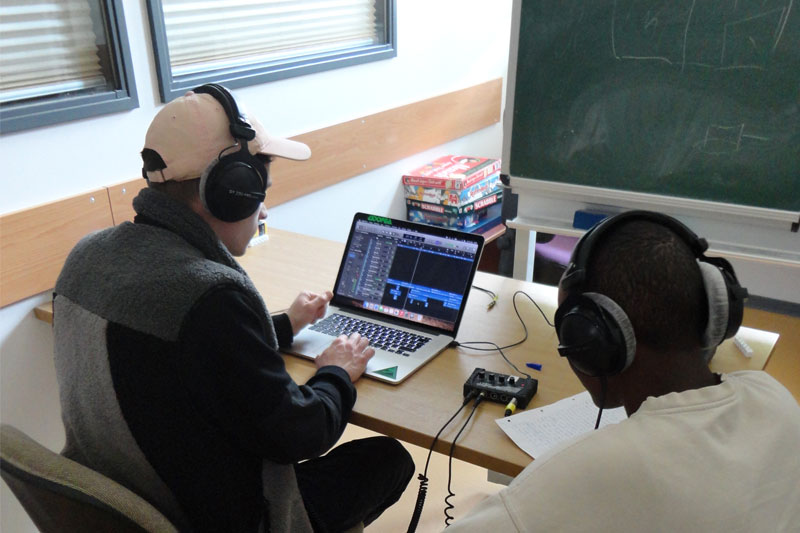 "My life in Wriezen" is the working title for a music video that the North Brandenburg Prison (JVA) wants to develop and produce with juvenile inmates from the Wriezen sub-prison together with the hip-hop group and audio production company BÜRO 21 from Strausberg.
A first workshop has already taken place. Psychologist Laura Kowalski, who is in charge of the project at the prison, writes:
"Currently, about 110 adolescents and young adults with different cultural backgrounds are incarcerated in the Wriezen sub-prison of the JVA Nord-Brandenburg. The young men spend a formative period of their lives here, which evokes both negative and positive emotional states in them.
Within a five-day music workshop, four of these young people were now given the opportunity, with the artistic and technical support of BÜRO 21 from Strausberg, to process their thoughts in a joint song. On 03.04.2023 it started with getting to know each other and teaching the basics, such as rap techniques, rhymes and beats. It was talked about topics that occupy the young people and first texts were written. These revolved around the things that got them into prison, such as drugs, violence, hatred, envy and money. But also experiences on the flight to Germany and the feeling of having nothing to lose played a big role. On the one hand, they described the feeling of being in the same boat through imprisonment and, on the other hand, of finding out who their true friends are through this very thing. Thus, loneliness is also an important factor and the realization that family plays an important role, both before, during and after incarceration. Family is "sacred.
After agreeing on the theme of freedom, a refrain was developed together and a beat was selected. Each of the young people also wrote their own verse, which was then practiced with commitment and finally recorded piece by piece. This is how the song Freiheit came into being."
Here is a text excerpt, written by Mosti:
"From hash dealer to chess player
it should not be so
the state sues again
the eight clicks again
i'm in here alone..."