"Zukunfts(t)räume" is the title for the cabinet exhibition that will be on display at the Altlangsow School and Prayer House from June 17. The works are created as part of a youth workshop at the Kunsthof Lietzen by Erika Stürmer-Alex with students from the Gymnasium auf den Seelöwen Höhen.

What future prospects do young people between 14 and 21 associate with the region? What do they need and what do they bring to the table? These questions gave the Förderverein Schul- und Bethaus Altlangsow e.V. the idea to organize the Youth Art Day. Creativity and creative power are among the most important resources of a region, especially for children and young people. For decades, artists have enriched the Oderbruch and contributed a lot to its attractiveness as a cultural landscape. The project "Zukunft(t)räume" builds a bridge between young people and the art scene: the renowned artist Erika Stürmer-Alex conducts a workshop with students of the art class of the Seelow High School. The results will be presented at the "Youth Art Day" on June 17 at the Altlangsow School and Prayer House.
Results of the Youth Art Day "Future(s) Dreams
On June 14, an all-day creative workshop with 17 students from the Seelow Heights High School took place at the art yard of Erika Stürmer-Alex. Guided by the artist and supported by the art teacher of the Gymnasium, the young people created relief panels in which they dealt with their experience of nature and everyday life in the Oderland.
On June 17, the public presentation of the reliefs created then took place in the garden of the School and Prayer House under the title "Youth Art Day Zukunfts(t)räume". The event, which was attended by about 30 people, was opened by District Administrator Gernot Schmidt and Headmaster Peter von Campenhausen. Both held a discussion lasting about half an hour with the young people, who explained their works. The resulting reliefs will be displayed in the School and Prayer House during the summer and then permanently exhibited in the Seelow High School. A long-term success of the project is that a cooperation agreement can be reached between the Kunstverein and the Gymnasium, so that joint mediation formats can also be carried out in the following years.
The following pictures give an impression of the exhibition.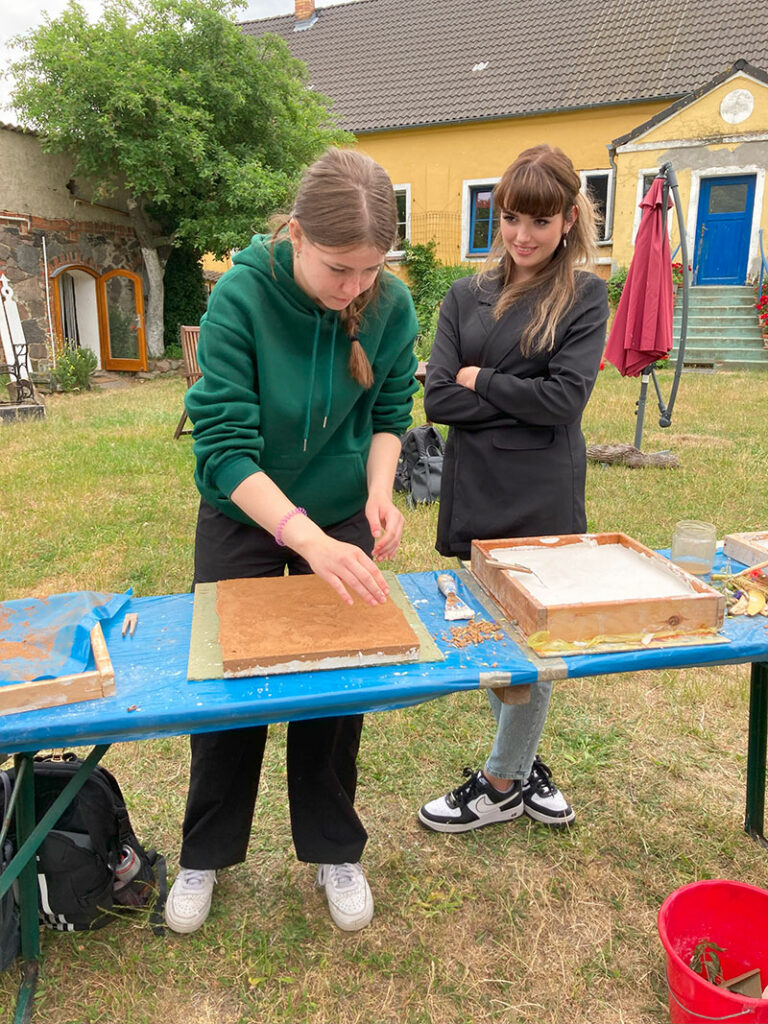 Dr. Kurt Winkler