Water system, agriculture, building culture, people
A rich landscape panorama from stories from here as well as
- Photographs by Ulrich Seifert-Stühr, Stefan Schick and Michael Anker
- a small exhibition on the nature of the Oderbruch, designed in a summer school in May 2022
- Workbenches with reading and photo material
- Audio recordings with reports of Oderbrüchern, read by Jens-Uwe Bogadtke
---
---
---
Room Archive
2022 Nature summer school - diagrams in insect boxes
In a summer school with students from the Institute of Landscape Architecture at TU Dresden and HNE Eberswalde, Lars Fischer and Kenneth Anders from the Oderbruch Museum went on excursions on the annual theme of "Nature". They conducted interviews at cultural heritage sites (Haus der Naturpflege, Schweizerhaus Seelow, Lindenallee Neubarnim) and on numerous aspects of the natural balance and nature conservation in the landscape. The results were displayed in old insect presentation boxes and presented at a museum night on the Whitsun weekend.
---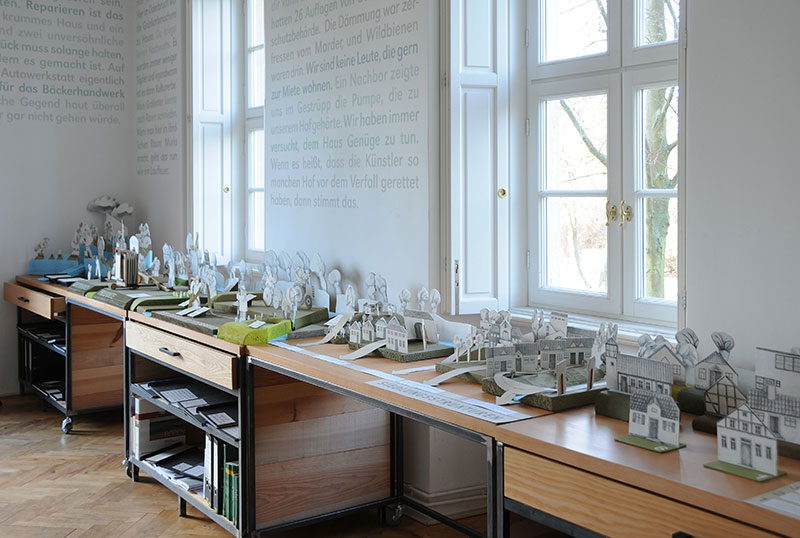 2017-2021 Waltraud Fischer's small stage sets on the peculiarity of the Oderbruch
For each of the annual themes from 2017 to 2020, the artist Waltraud Fischer developed small stage sets that came together on the workbenches in the gallery to form an increasingly dense description of the Oderbruch. The basis was formed by the surveys and research in the respective theme year. Important statements on hydraulic engineering, agriculture, building culture and rural society in the Oderbruch (published in 83 times Oderbruch) were pointedly illustrated by her and with Wirtz.
---
2016 Revision - The collection of the open-air museum
Under the direction of Michael Fehr, the entire collection of the open-air museum was exhibited in 2016 in order to engage with visitors and gain an overview of the holdings. Based on this presentation, the museum developed its new collection concept with basic guidelines for the further handling of historical objects and for the future inclusion of collection items.
---
2015: Remembering today
In preparation for the transformation of the Altranft Open-Air Museum into a museum for regional self-description, the exhibition "Remembering Today" was created in 2015 to define the conceptual scope of the upcoming work - from cultural heritage to landscape education, from central Oderbruch themes to the role of art and collecting.