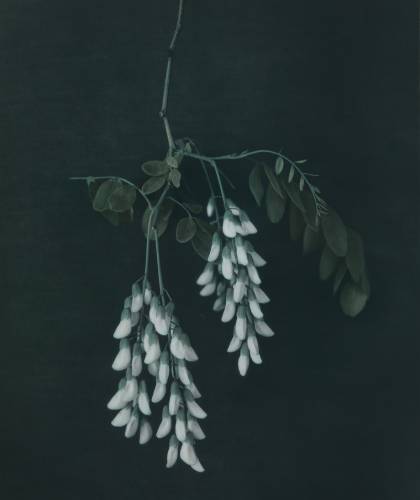 An exhibition by Ulrike Mohr & Ingar Krauss at the Altlangsow School and Prayer House, curated by Harald Theiss.
The opening is on Saturday, June 11 at 3 pm. Introductory words will be spoken by Eugen Blume
The artistic confrontation of man with his immediate natural environment is an elementary and recurring motif in the work of both Ulrike Mohr and Ingar Krauss. His atmospherically stubborn photographic still lifes of found or harvested natural things, whose stage-like presence seems to grow out of the picture frames, are as charged with transience as nature itself. Ulrike Mohr also collects her natural materials on site and processes them into charcoal through the ancient craft of charcoal burning in a quasi-conservational process. With the charcoaled objects she builds narrative spatial constructions that enter into a nature-lyrical dialogue with the paintings of Ingar Krauss. Both artists will also be on site on June 12 and offer a guided tour.
This Sunday, at 5 p.m., there will be a top-class jazz concert in the garden of the heritage site: Helga Plankensteiner and Barionda, that is four baritone saxophones and drums.
Accompanying the exhibition there will be two readings followed by a talk.
On June 26 at 5 p.m. Petra Ahne and Eckhard Fuhr will be guests to talk about Natural History to talk about. Both have appeared in the successful series of the same name Natural History (Matthes & Seitz) published books on the topics of huts, wolves and sheep.
Cultural landscape with wolf and lamb
What is good natural history? How can our relationships with nature be described? Since 2013, the Berlin publishing house Matthes & Seitz has been publishing the books in the Naturkunden series, which place humans in a new relationship to nature, and which also show that animals and plants have a cultural history, that they can even be actors in cultural history. In conversation with cultural scientist Lars Fischer of the Oderbruch Museum Altranft, they will present their books about wolves and sheep and tell of personal relationships with nature. Admission is free.
Wolves and sheep - a contrast of nature and culture deeply anchored in European thinking. They stand for wilderness or pasture, promise an untamed or sheltered life. The return of wolves to Central Europe not only leads to new conflicts with shepherds and hunters, it also fundamentally questions our relationship with nature. How much space do we allow nature around us and within us? To what extent do we control it or does it control us? How do we use and protect its resources? And what do humans owe to the sheep? Eckhard Fuhr, born in 1954, was a political editor at the FAZ and worked as a feature writer and cultural correspondent for Die Welt. In 2017 Matthes & Seitz published his book Schafe. Ein Portrait, and in 2019 his hunting lore. He is an active hunter and vice chairman of the Ecological Hunting Association Brandenburg.
Petra Ahne, born in Munich in 1971, is an editor in the feature section of the Frankfurter Allgemeine Zeitung, where she devotes most of her time to the subject of nature. Her books in the series Naturkunden are Wölfe (2016) and Hütten. Zwischen Sehnsucht und Obdach (2018).
On August 21 at 3:00 p.m., the author Ludwig Fischer will be our guest, who will speak under the title. Nature in mind wrote a book about nature perception in literature (Matthes & Seitz). He has published a volume on stinging nettles in the Naturkunden series.
As usual, the exhibition will be open only on weekends from 2 to 5 p.m. and will run until August 28.