Peter Herbert's Beetle Collection.
A natural history show on a little-noticed habitat of the Oderbruch with taxidermy, macrophotographs, and explanations.
---
---
---
Room Archive
2022-23: Cis, Trops, Blaps and the others - Peter Herbert's beetle collection
A natural history show on a little-noticed habitat of the Oderbruch with taxidermy, macrophotographs, and explanations.
The museum dedicated a special exhibition to Peter Herbert's 6,000-strong collection of beetles from the Oderbruch region as part of the annual NATURE theme. Together with the Oderberg photographer Enrico Schefter, a show of carefully prepared animals, impressive macro photographs and a list of species that is also of interest to scientists, together with a richly illustrated accompanying booklet, was created. The collection belongs to the "Senckenberg German Entomological Institute Müncheberg" and was incorporated into its inventory after its completion.
---
2019 Networked being - Gunhild Kreuzer and Angela Lubic
An exploratory tour with an artistic map and performances
Why and for what did people come together in the Oderbruch? What went according to plan, where did they fail? What does the association structure look like? How is the networking? Are there problems with recruiting new members? Based on conversations with associations, a spatial installation of maps, threads and postcards was created, which showed how diverse and complex social commitment in the Oderbruch region is.
---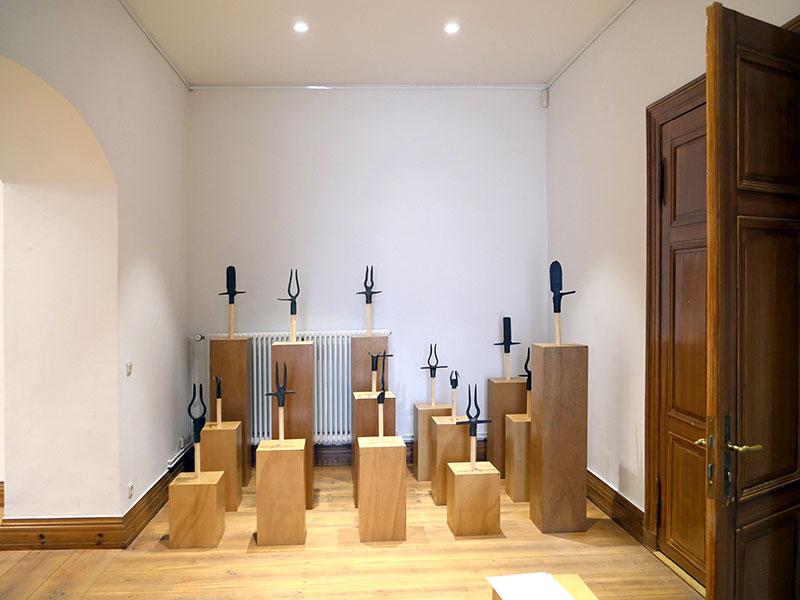 2018 - Beet lifter from the Oderbruch region
A contribution to the annual topic of agriculture by Peter Herbert and Michael Fehr
Hardly any other agricultural tool has been used as extensively in the Oderbruch as the beet lifter - and for hardly any other region in Europe has this tool been as typical and ubiquitous as here. The reason for this is, on the one hand, that the Oderbruch has been an important center of sugar beet cultivation since the first half of the 19th century (and remained so until a few years ago). On the other hand, the extremely cohesive Oderbruch soil is damp and unpredictable, especially during the beet harvest, so that harvesting machines often cannot reach the field.
In such years, hundreds of harvest workers were needed, all of whom had to be equipped with this device. (Many of the items shown here come from the Neulewin LPG warehouse for such operations, which was disbanded in 2007). But in earlier times, the harvest workers also brought their personal tools with them. Some of them have remained here, recognizable by the owner's mark or hallmark of the blacksmiths from where they were traded on the markets.
Over the course of time, the beet lifter has undergone an interesting development. Various types and special forms have developed in the Oderbruch, which were shown and explained in the exhibition. The beet lifters on display came from the collection of the Altranft Open-Air Museum and (mainly) from the collection of the Neulewin Farm Society, which has used the implement as its club logo since 2002.